Project Overview
EbA project was approved by GCF on 28 February 2019 and is implemented under The Ministry of Environment , Forestry and Tourism (MEFT) funded by Green Climate Fund (GCF) through the Environmental Investment Fund (EIF) of Namibia. The EbA (SAP006) project is financed to the tune of Eight Million Nine Hundred and Four Thousand US Dollars (U$ 8,904,000). The project aims towards increasing landscape productivity across targeted 8 landscapes of Namibia to strengthen social and ecological systems that sustain livelihoods at local levels and facilitate value chains of natural resources.

The EbA Project Grant Facility highlights the Environmental Investment Fund of Namibia's (EIF) commitment towards addressing climate change. It further highlights the Funds contribution towards the realization of Namibia's obligations to national and international climate change frameworks.

EbA (SAP006) is called "Building resilience of communities living in 8 landscapes threatened under climate change through an ecosystem based adaptation approach in Namibia ".
Project Objective
The overall objective of the project is to:
• Increase climate change resilience of productive landscapes in Namibia through implementation of ecosystem based adaptation actions that strengthen social and ecological systems to sustain livelihoods at local level and facilitate value chains of natural resources.
The specific objectives of the project are:
• To enhance the resilience of natural resources and livelihoods sensitive to climate change impacts through improving community adaptive capacities to sustainably manage natural resources; and
• To maintain and enhance ecosystem integrity to continue to support the generation of food and income in order to reduce the severity of negative socio-economic impacts of climate change on vulnerable rural households
Project Location
The project is implemented in eight landscapes in 13 of the 14 political regions of Namibia as depicted on the map below.

These targeted landscapes encompass most of Namibia's conservancies and community forests and are home to majority of natural resources-reliant communities

Total Project Coverage Map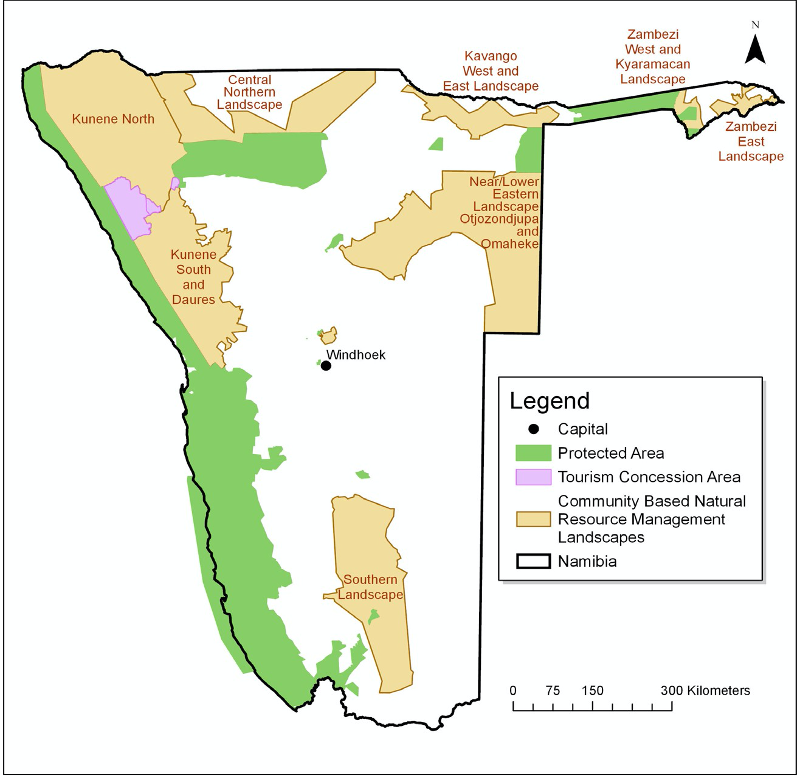 Target Beneficiaries
EbA project seeks
• to benefit more than 216000 peoples in eight landscapes (7.5% of Namibia's total population)
• to cater for all communities and relevant sectoral CBOs (water point committees, grazing committees, farmers' associations, communal conservancies and forestry conservancies)
• to cater for more beneficiaries than registered CBNRM members
• to cover more than wildlife, tourism and forestry by seeking to include grazing/rangelands, water, fisheries, and agriculture at ecosystems level.
• to be implemented in communal areas called state own land
• to work with local authority i.e. traditional authorities, village councils and settlement committees
GCF Areas covered by EbA project – Adaptation
EbA project seeks
• Ecosystem and ecosystems services
• Health ,food and water security
• Livelihoods of people and communities
Sustainable Goals